SUNDAY-THURSDAY PACKAGES

SPECIAL WEEKEND PACKAGES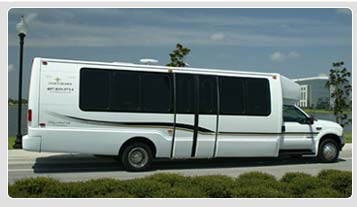 Through years of experience in the limousine business world and corporate car service airport transportation, we have realized numerous ways in which things could be done differently; not just for the sake of being different, but for the sake of offering much better service to valued clients. With lots of hard work and attention to detail, Onyx Transportation Limo was founded in 1998, and has developed into one of the highest-regarded livery companies in the Greater Houston Area. Since we are one of the largest Shuttle Transportation Limousine companies in Houston, we are able to offer a personal touch at a very competitive price. Every account we earn is our largest and most important account.

The staff and professional chauffeurs at Onyx Transportation Limo Rides strive each day to provide our loyal clients with safe, convenient, courteous, and reliable service. We promise much, but always deliver more while continually discovering creative ways in which to differentiate ourselves from our competition.
When you choose Onyx Transportation Limo Service, you are selecting one of the highest-regarded transportation Limousine Rental companies in the Greater Houston Texas Area. Our goal is to provide you with the most reliable, convenient, safe, and pleasant experience while in our limos. Leave all the details to us while you concentrate on more important aspects of life. Give us a try - We Guarantee Your Total Satisfaction! We offer service to the Houston Rodeo, Houston OTC Transportation, Final Four, Shell Houston Open Transfers and 2017 Houston Super Bowl at NRG.
Onyx Limo in Houston is available 24/7, 365 days a year to meet all your limo rental service needs. We offer latest model Lincoln Town Cars and Limousines, as well as, a selection of executive SUVs, shuttle Buses, mini-luxury buses, 8 passenger Stretch Lincoln Limousines, 10 passenger Magnum Limo, 16-50 passenger Luxury Limo Party Buses, 14-27 passenger SUV Limos and 56 passenger Motor coaches for a variety of events. The newest addition to our fleet is an 48-50 passenger Mega Limo Coach.

Our professionally trained and permitted airport town car service chauffeurs track your flight, greet you, assist with your luggage and whisk you away while you enjoy amenities such as bottled water and the morning newspaper.

We thank you for this opportunity in presenting Onyx Transportation Limo Services and look forward to a mutually beneficial business relationship.
Houston Airport Transportation Service, Houston Limo Rental, Houston SUV Limos, Houston Party Buses, Houston Airport Car Service, Houston Limousines, Houston Limo, Limo Service, Hummer Limos. Houston Airport Transportation, Houston Limo Rentals, Houston SUV Limousines, Houston Party Bus, Houston Airport Car Service, Houston Limousines, Houston Limo, Limo Service, Houston Hummer Limos, Houston Limo Service, Houston Airport Limos, Party Bus Rental Houston, Limousine Rental, Houston town car service, houston sedan service, houston airport limos, houston car service, houston airport car service, houston limousines, Houston Limo, Houston Party Bus, Houston Party Buses, Houston Limo Service, Houston Airport Limos, Party Bus Rental Houston, Limousine Rental, Houston bus, Houston bus service, Houston bus rental, Houston bus travel, Houston charter bus, Houston bus charter, Houston shuttle bus, Houston bus tour, Houston tour bus, Houston motorcoach, Houston affordable limos, Houston charter bus services, Houston motorcoach buses, Houston tour bus rental, Houston motorcoach bus, Houston motorcoach rental limo bus, mega bus service, limo bus rental, party, airport, Party, Airport, mega limo bus, charter bus, bus charter, shuttle bus, bus tour, tour bus, motorcoach, The Woodlands TX Limo Service, Katy limo service, sugarland limo service, sugar land limousine rental, cypress tx limo services, woodlands limouine, houston suv limos, limo buses, limousine services, limo houston, Houston charter bus services, Houston Airport Car Service, luxury suv limos, houston airport car service, luxury suv limos, party buses, shuttle buses, houston airport limos, houston party buses, party bus rental houston, houston limo service, mega buses, big buses, Houston Airport Car Service, luxury suv limos, houston airport car service, luxury suv limos, Houston tour bus rental, Houston motorcoach bus, Houston motorcoach bus rental, Houston Rodeo Limos, Houston Limo, Houston Party Bus, Houston Party Buses, Houston Limo Service, Houston Airport Limos, Party Bus Rental Houston, Limousine Rental, Houston bus, Houston bus service, Houston Rodeo Transportation, Houston Rodeo Limo, houston suv limos, Houston charter bus, houston airport limos, houston party buses, party bus rental houston, houston limo service, limousine rental, Houston Rodeo Limousine, houston airport limos, houston party buses, party bus rental houston, houston limo service, limousine rental, houston airport limos, Houston party buses, party bus rental houston, houston limo service, limousine rental, Houston shuttle bus, Houston bus tour, Houston Airport Car Service, houston airport car service, luxury suv limos, houston airport limos, houston party buses, party bus rental houston, houston limo service, Houston tour, houston airport limos, houston party buses, party bus rental houston, houston limo service, limousine rental, houston airport limos, houston party buses, party bus rental houston, houston limo service, limousine rental, bus, Party, Airport, Houston Hummer Limos, Houston suv limos, car, luxury, party, airport, luxury suv limos, party, airport, Houston Airport Car Service, luxury suv limos, houston airport car service, luxury suv limos